Some have knowledge about faith and look good on the outside but fail to produce any fruit. Not only is there a need to learn but a need to connect to others and share about God's Plan. Reading today in Mark 11:12-25, let us not only absorbed the nutrients from the word to grow in faith but also produce fruit so we provide food for the soul for others.
Jesus and the disciples were on their way from Bethany to Jerusalem when they stopped along the way to rest. Jesus noticed a fig tree full of green leaves so he went over to get some figs to eat. It was displaying leaves so it was presenting itself as producing fruit but did not so Jesus perpetuated the state in which he finds the fig tree by pronouncing judgment on it.
When they entered the temple courts in Jerusalem, there was buying and selling going on in the temple area. The temple leaders were involved in monetary benefits from this buying and selling as they took advantage of the people who came to worship. They presented themselves as having something good or fruit to benefit the people but instead created a burden on them.
There was a significant temple tax of about two day's wages per year for a working person. There was also a 15% fee which was collected by the money changes for the currency exchange that existed at that time between Greek and Roman money. On top of that, the people were charged for doves used in sacrifice. If they bought doves someplace else, the inspectors rejected them because the doves had to be without blemish. The temple leaders would then sell their doves to them and charged 20 times more than normal.
Jesus was furious when entering the temple courts so He overturned the tables of the money changers and the benches of those selling doves (v. 15). Instead of a "house of prayer", the temple was described by Jesus as a "den of robbers" (v. 17). The priests and scribes were jealous of Jesus and they feared Him because the people were amazed at His teaching so they began looking for a way to kill him.
On the way back to Bethany, they took the same path they had come and saw the fig tree withered from the root (v. 20).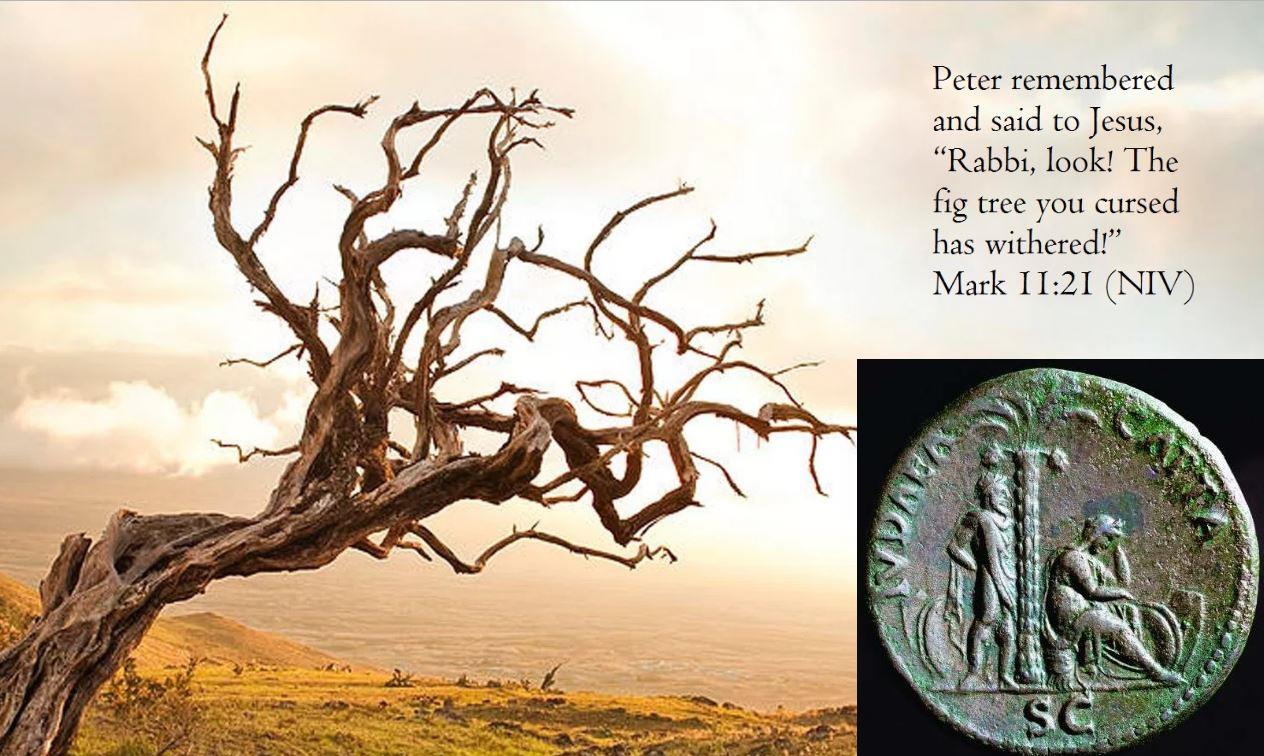 Photo Credit – Bing Images
Jesus uses the fig tree to illustrate prayer. Faith in God should make us fruitful in good works. When we pray, we should believe that we have already received it because faith gives us the strength to endure, the patience to wait, and the energy to withstand the struggle.
Lord we pray for our faith to provide the nutrients we need so we produce spiritual fruit for not only ourselves but for the soul of others. Help us to not only have knowledge of faith but to put our faith into practice. To take in the principles taught by Christ and to apply our faith for Your purposes. Amen.