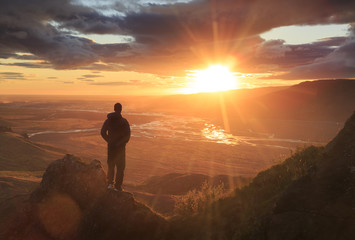 On Paul's missionary journey, God led Paul in regards to housing, activities, and the length of his stay as recorded in Acts 18:1-11. He led Paul to Corinth and Paul stayed with a man named Aquila who like Paul, was a tentmaker.
While in Corinth, Paul tried to persuade Jews and Greeks that Jesus was the Messiah as he preached every Sabbath in the synagogue but many still would not believe so he left the synagogue and went next door to the house of Titius Justus.
Paul received a gift of money and help from his friends at Philippi (2 Cor. 11:8) which gave him the opportunity to devote himself entirely to his missionary work. Silas and Timothy also came to join him from Macedonia and this also encouraged him. Then recorded in bold print below is the vision received by Paul:
Do not be afraid; keep on speaking, do not be silent. For I am with you, and no one is going to attack and harm you, because I have many people in this city. – Acts 18:9-10 
Paul may have been ready to leave Corinth because of the situation. Some were turning towards Christ but idol worship was so ingrained in the fabric of that society. The vision above encouraged Paul and he ending up staying in Corinth for eighteen months.
Lord this day with You, we seek Your guidance in our homes; what to do, our activities today, and how we use our time. This day with You will be amazing because You are like a mountain; standing rock solid over time and protecting us in our time of need. We can take courage, for You are always by our side. Amen.